AMD Ryzen 2700X vs Ryzen 1600
AKiATECH
Ryzen 7 2700X vs Ryzen 5 1600


Intro
I've always been a fan of AMD processors. I remember a looong time ago when Windows 98 and a song by a certain "artist" was all the craze, I saw an ad from an unknown (to me) CPU manufacturer for a 500MHz chip. That manufacturer was AMD and the chip was their flagship at the time, the AMD K7 based Athlon 500. Outside of that ad I never had the opportunity to experience any of AMD's chips first hand until about 8 years later. This was when I bought a Turion X2 based Laptop to rebel against Intel leaving me hanging when I upgraded to Windows Vista. TL;DR Intel refused to release a WDDM driver for the chipset used in certain laptops even though the 915 chipset was more than capable of supporting Aero transparency. When Vista was in the testing phase you could use Aero with the XDDM drivers but this support was removed in the final release. I was able to eventually "mod" the Windows Registry to get it working in the end but Intel was on my naughty list for years after that.
---
More Intro?
After the IntelGate experience, I had even more reason to enjoy my new Turion laptop, but my enjoyment was short lived. If you've ever experienced using the Turion X2 chips you would've known firsthand that they ran extremely hot. To add to my misery I was am a serial overclocker. The Turion had so much headroom for a mobile chip, it was crazy, and being paired up with the now-defunct Nforce chipsets the performance gains were unbelievable. I mean, I could easily squeeze an extra 200-300 MHz out my chip with no problem… well, except for the fact that I couldn't cool it. It was so bad that I ended up cutting a hole in the laptop where the CPU cooler was and then attached an external USB fan to provide additional cooling. My laptop kept going strong, but many others didn't and died from overheating. Some were easily albeit temporarily fixed with some heat and a little bit of foil but many ended up on a certain auction site listed as "for parts only". I blame this on the single cooling fan solution that was being used (mainly by HP) to cool the GPU and CPU. I eventually replaced that laptop with an Intel-based model but I was always on the lookout for an AMD product that was good enough to replace the i7 chips that I eventually learned to love.
---
The Contender
It's now mid-2016 and I'm researching parts for a new build to compliment my "hobby" of Audio/Video production. I tried to justify Intel's prices with what they were offering but I couldn't, so I decided to go with AMD instead. Their FX line of CPUs at that time was very outdated. Intel's i7 and i5 chips were dominating them in almost every benchmark. To my detriment, I thought that I may have to stick with Intel and their overpriced hardware forever. I decided to postpone my build a few months to wait for any updates on AMD's Zen architecture which had a lot of buzz surrounding it at the time. A few months later AMD announced that they had finally "perfected" this architecture and would be releasing their new CPUs under the "Ryzen" brand name. I was stoked but thought that they could have done better with that name. Once I saw the design of the logo and the hardware capabilities though I was sold and immediately ordered an R5 1600, X370 Motherboard, Ryzen Ready DDR4 2400 RAM and a case to toss it all in. I also knew from the beginning that I was going to overclock the chip so I purchased an NZXT Kraken X62 AIO cooler, specifically the RL-KRX62-02 which included the AM4 bracket. I loved the way the cooler looked and being a longtime user of NZXT products I knew it would be a quality unit, unlike the Corsair H80i I used my previous build which burned through its blue LEDs in less than 2 months. You may be saying that the main purpose of a cooler is to cool but being that most AIO coolers are made by the same people the only real differences are the "eye candy" and software which the Kraken excels at, well kinda.
---

The Ryzen 5 1600
The R5 1600 was the perfect replacement for my geriatric i7 930. It had 2 extra cores, twice as much cache, higher stock clock, smaller process, half the TDP… I could find no flaws and with a price just north of 200 bucks I thought I was in a good spot. Once I got everything installed and configured though I was happy but not elated. The performance was excellent compared to the old i7 and the memory performed at its listed speed, which was okay… but there was a problem. I had buyers remorse. Yes the memory tweaking options could have been a little better, yes the chip could have run a little cooler or overclocked higher, yes it was doing an okay job rendering my video and audio but I still wanted more. For the year or so that I owned the R5 1600, I kept kicking myself for not spending the extra $100 to get the R7 1700. It just bothered me so much that I could have gotten 2 extra cores and 4 extra threads for almost the same price as the stick of RAM I bricked flashing the SPD to get more performance, deep breath. I wanted to go out and grab one of the Ryzen 8 cores so badly but I knew that it would've been a waste of money. Fast forward to April 2018 and the release of the new Zen+ architecture, guess what, I couldn't resist anymore. As soon as the chips were release I grabbed the 2700X. The performance difference between the 8 core and the 6 core is night an day. The 2700X is about 30% faster than the 1600 on average. This is not so much a result of the new architecture but mainly because of the additional cores. If you already had a 1700(X) or 1800X then this upgrade is probably not for you. If are coming from a Quad or Hexacore CPU though, prepare to be amazed.
---
The Idea of the 2700X
To say that the Ryzen 7 2700X is the greatest Octa-core chip ever would certainly be a lie. It's not perfect nor as fast as some of the competition but neither is a Rolls Royce Phantom. Am I saying that the R7 is the RR of CPU's not really, am I saying that it's a very cleverly disguised 300 Hemi in RR Drag, absolutely. The Ryzen chips are not the fastest consumer CPUs on the market Intel has that category locked down tightly. What the 2700X and its cousins represent is more significant than that. This chip is a big greasy middle finger to Intel's lackluster attitude for the past few years. They have been milking their customers with minor performance updates and stagnation across their entire CPU line up. Not only were their chips overpriced and underperforming (for the price), they as a company just didn't care! When you are guaranteed revenue by virtue of your monopolistic hold on the market there is no need to innovate. Why spend money on R&D and new fabs when you can just switch on the autopilot and profit. Let me make something clear, I love a great deal. The Intel E2140 was one of the most underrated overclockers of its time. I was able to take that chip from 1.6 GHz to 3.2 GHz with almost no effort. Their "Core 2" line had some of the highest overclocks, even the i5 760 Quad and later (for me) i7 930 we're decent too although they ran a little hotter because of their extra cores. I love Intel when they innovate and give us all quality but reasonably priced products. When competition exists, we all win!
---
Performance
If you've had the misfortune of reading any of my posts in the past you'll realize very quickly that they are deeply opinionated. I like to talk about stuff from my perspective and since I spend my own money on anything that I review I think that I'm within reason to do so. Unfortunately, with benchmarks, you can't really do that, so here are a few screenshots to compare the Hexa-core Ryzen to its Octa-core successor. I also threw in a couple i7 930 benches for S&G. A few things you may notice below between the overclocked benchmarks and the XFR ones is that the Memory and Cache seem to perform better with the auto overclock vs the manual one. I haven't found an explanation for this yet. When I do I'll update the post.
CPUs: R5 1600 @ 3.9 GHz vs R7 2700X @ 4.15 GHz & Stock with XFR
RAM: Geil Evo X DDR4 3000 @ 2666MHz Eff. (Couldn't boot @ full speed with 32GB)
GPU: ZOTAC GeForce® GTX 1070 Mini
MTB: Asrock X370 Killer SLI/AC
Cooler: NZXT Kraken X62
Case: Zalman Z9 Neo
---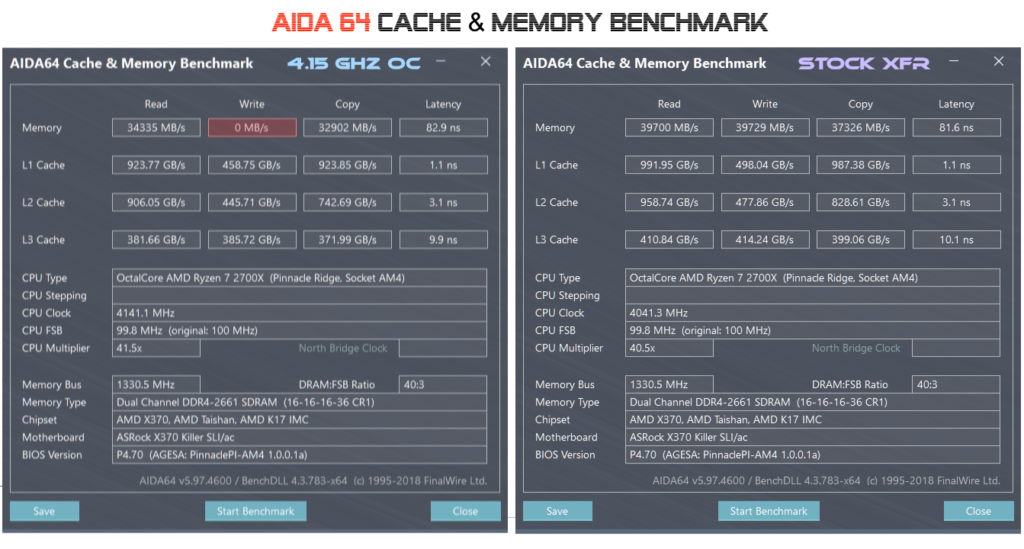 GEEKBENCH 4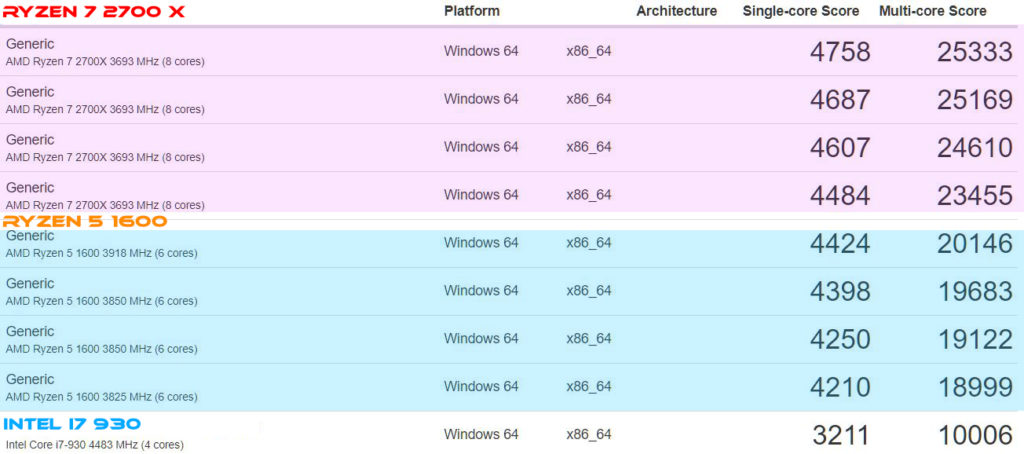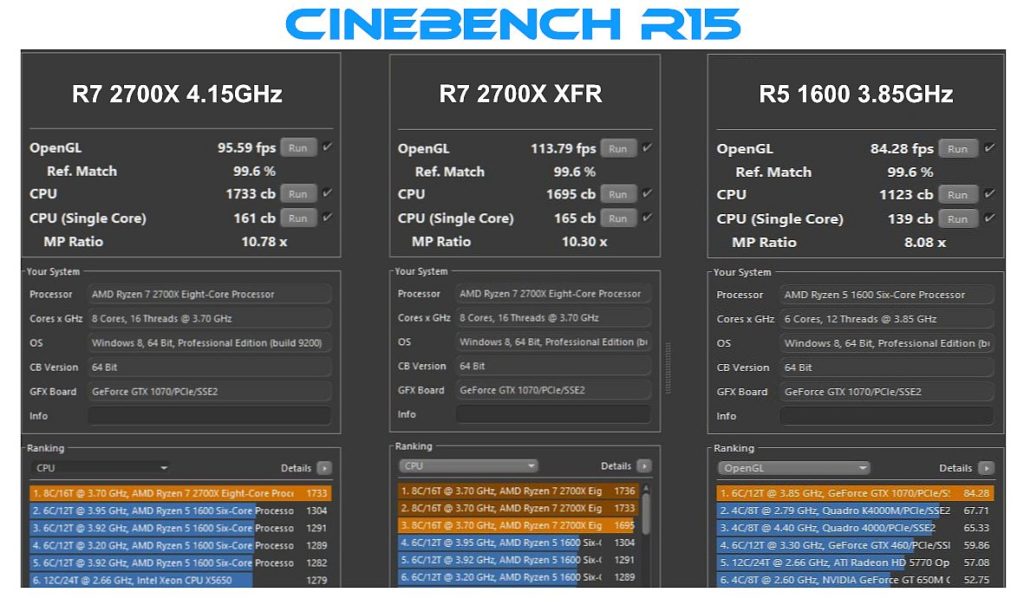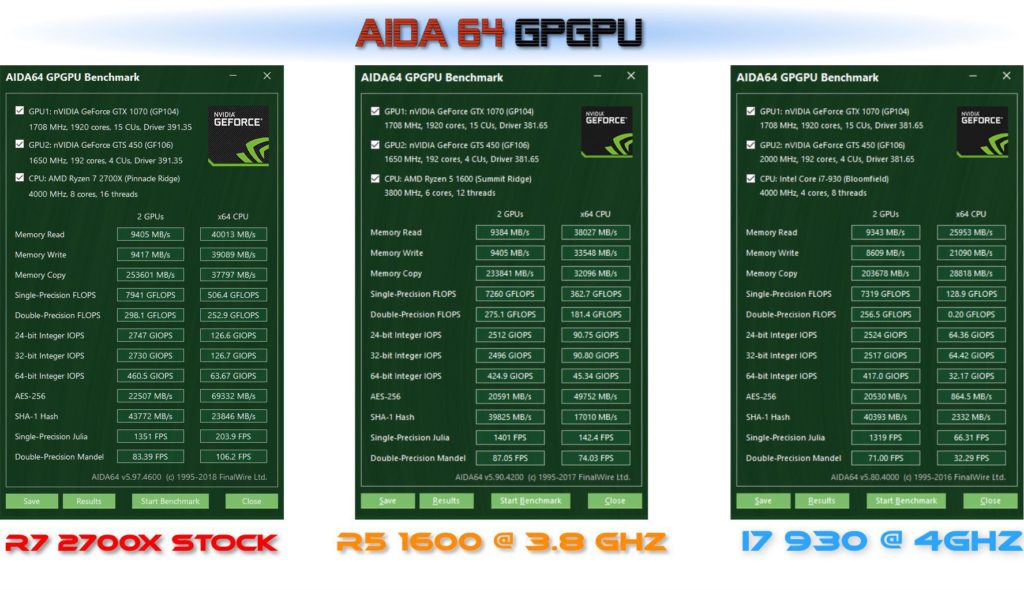 TEMPS Stock XFR (Kraken X62, Custom Fan Profile, No Offset)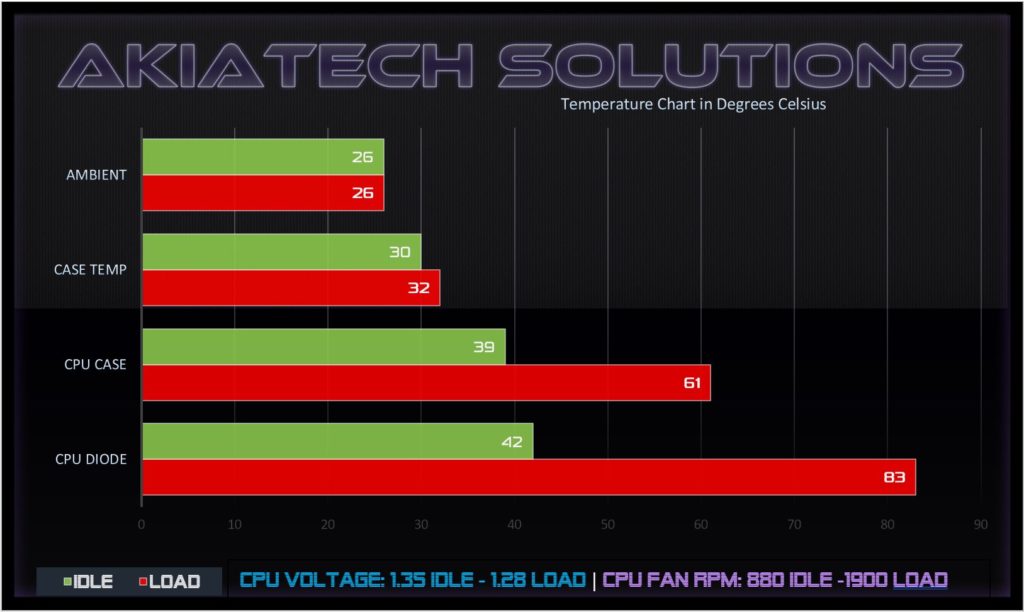 ---
Overclocking
Achieving a solid overclock on this chip is hard without bumping the voltage and LLC all the way up. I was able to get a stable 4.2GHz overclock at 1.365 volts and an LLC setting of 1. I've been seeing chatter on the net that AMD's max safe voltage requirement for this chip is around 1.45 volts with potential "degradation" over time. I personally would not go past 1.4v, actually, I couldn't, well I could but then the processor would constantly overheat with temps spiking up to 100+ degrees within seconds of benching the FPU. The highest I could get the chip was to 4.2GHz which is reasonable but not much more than you will see with XFR. The only reason I'm even overclocking the chip is to prevent it from downclocking to 3.8GHz under load which it has been doing lately. This only happens when all the cores are maxed and is probably due to my cooling setup. I don't plan on investing in a custom water loop anytime soon so I'll stick with the 4.2GHz OC. Based on what I've seen the R7 2700X has a split personality! XFR is good for low thread count applications and Manual OC is good for applications that utilize all 16 threads. The best approach to figuring out whether you should overclock or not is to determine what your usage will be and then use the best method to achieve the required outcome. When overclocking be mindful of your voltage and try to stay away from the SOC voltage if you can. A higher than expected SOC can cause permanent damage, especially with LLC enabled. I set everything to auto except my RAM voltage which defaulted to 1.35v when I applied the XMP profile and the CPU Core voltage as I mentioned earlier in the paragraph. Heat is a processor's worst enemy and this one can get really hot very quickly when overclocked, this is why I will suggest that you don't overclock this chip unless you have superior cooling.
---
Summary
So the question after all this is, should you upgrade to the Ryzen 2700X. Well, if you already have the 1600 or another older hexacore or quadcore chip and you're using your PC solely for gaming, then probably not. If your producing content or editing anything up to 4K resolution then maybe. As long are you are using multithreaded applications that can utilize all 16 threads on this chip, you will see some of the best performance gains for your dollars compared your older hardware. If you're thinking about overclocking this CPU… don't. The gains are minimal unless you can squeeze at least a 4.3GHz overclock out of it. The factory overclocking mechanism (XFR) is surprisingly good, although I really wish it wouldn't downclock as far as it does under load. Overall I'm happy with the upgrade and will be even happier when I find the Hexa a new home. AMD is heading in the right direction and I think it will be really hard for me not to upgrade to Zen 2 when it's hopefully released in the next year or so. I hope that Intel is taking notes and will respond accordingly to this new "threat" on the horizon. I for one will be grabbing some popcorn and taking a seat to see how this all plays out. I think our bank accounts will agree that competition is a great thing. It drives innovation and gives a stagnant market a shot in the arm. I'm actually excited to build PC's again and I hope that my next build will be Epyc!
---
Specifications
| | | |
| --- | --- | --- |
| Series | Ryzen 5 | Ryzen 7 |
| Name | AMD Ryzen 5 1600 | AMD Ryzen 7 2700X |
| CPU Socket Type | Socket AM4 | Socket AM4 |
| Core Name | Summit Ridge | Pinnacle Ridge |
| Cores | 6-Core | 8-Core |
| Threads | 12 | 16 |
| Operating Frequency | 3.2 GHz | 3.7 GHz |
| Max Turbo Frequency | 3.6 GHz | 4.3 GHz |
| L1 Cache | 576KB | 768KB |
| L2 Cache | 3MB | 4MB |
| L3 Cache | 16MB | 16MB |
| Manufacturing Tech | 14nm | 12nm |
| Memory Types | DDR4-2666 | DDR4-2933 |
| Memory Channel | 2 | 2 |
| Virtualization | Yes | Yes |
| PCI Express Revision | 3.0 | 3.0 |
| Thermal Design Power | 65W | 105W |
---