Zotac GTX 1070 Mini | Size Means Nothing!
AKiATECH
Zotac GTX 1070 Mini

---
I've always been a Nvidia Fanatic, my first card was the Vanta then I got a hold of a Geforce 3 and after that a 440MX. I've had laptops with Nvidia graphics even my current Model has a Quadro chip under the hood. I've been rolling with Nvidia since PCI was cool and N00B5 were getting "Godliked" via Railgun in UT99. That being said you can imagine how much it hurt me to step over to the Red Team when I purchased my Radeon HD6950, exactly 6 years ago. I cannot lie though, that was the best gaming purchase I have ever made in my life. I still have the card today and the only reason I can't use it for gaming anymore is because it only has 2GB or VRAM and for most games nowadays that is below minimum spec. I wished that I could keep that card in my system forever but the amount I was spending on electricity and the dwindling performance of the card forced me to upgrade to a newer flashier GPU. All this in addition to the inability to play a few newer games that I'd forked over my hard earned funds for. It was a difficult but necessary choice!
About a year ago ATI/AMD ran an ad campaign touting the VR capabilities of their new Polaris lineup, with the RX480 card sitting at the top along with a few lesser models. "This is great" I thought I get to save money and get great performance. Sadly, Cheap and Powerful are not two words that you typically hear in the same sentence and although the 480 was a great card in its own right, it could never replace the HD6950 that came 6 years before it, no matter how much of a deal it was! Most people, including myself, like things that we know, things that are familiar to us and guess what….Nvidia was calling my name again, brand infidelity aside, I was taken back with open arms and an unsurprisingly light wallet. Based on my current computing needs and budget, the GTX1070 was what I thought would be a fitting replacement for my still very capable HD6950. Being a very frugal cheapskate I decided that the Zotac GTX 1070 Mini would be the one to replace the irreplaceable. I loved the design of the card and couldn't believe that it was cheaper than the competition and even the other cards in Zotac's 1070 lineup. This card is the true definition of a "Sleeper" and with looks to kill, it was the only choice for my build!
---
Design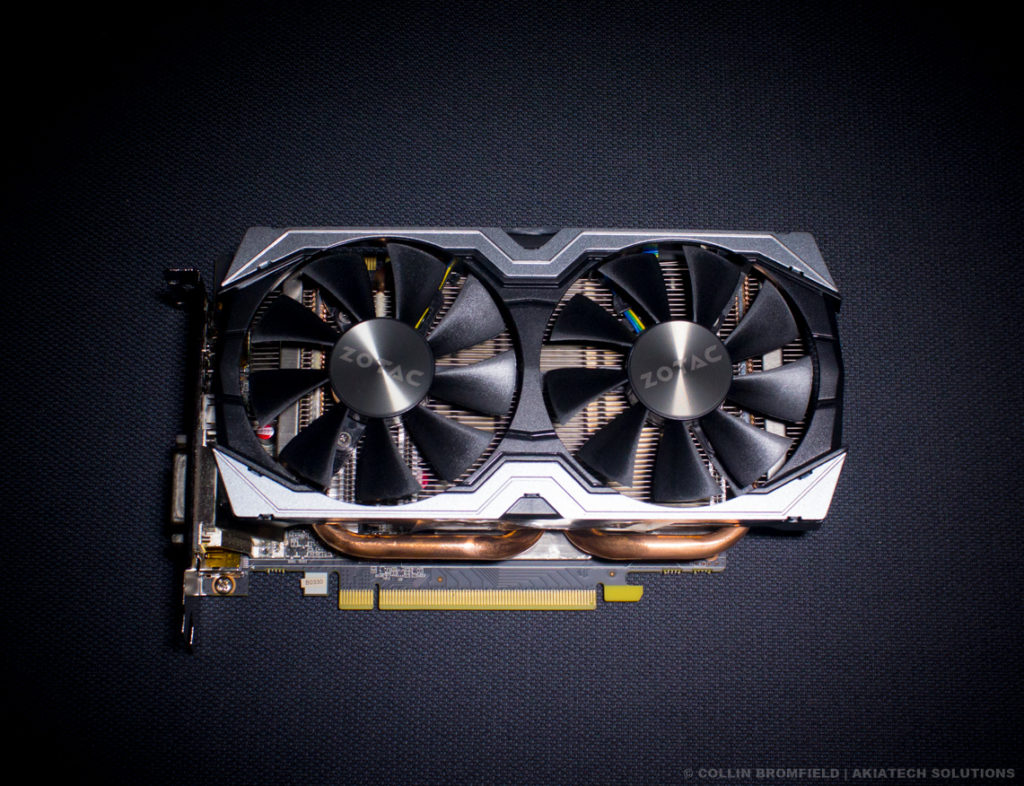 The 1070 line of cards are designed around Nvidia's Pascal Architecture, which is claimed to be up to 3x faster than the outgoing 900 series of cards which themselves were not that slow to begin with. I remember on certain forums 900 series owners were screaming at Nvidia for screwing them over with the release of these cards and to their defense they were screwed. These cards are friggin fast! and with the current trend of GPU accelerated everything, these cards can definitely smell what the Rock is cooking. So, although I'm sad to leave AMD behind I will gladly go back to them when they release something worthy and affordable that will give me at least 5 times the performance of my current card when it comes time to upgrade again, phew…. Now back to my little Zotac Mini. The thing that caught my eyes with this card was the dual "FREEZE Tech" fan design. The jargon between the quotations simply means that the fans turn off at low temps. This is a novel feature but it has been the bane of many Zotac card owners who have been running to the forums and support to find out why their fans are broken. I like it personally, since I dabble in a little Music Production every now and then the last thing I want is an obnoxiously loud GPU fan blaring in the background of me laying down a melody in Alicia's Keys. Other than the fans and the size of the card, it's pretty much your run of the mill GTX 1070. It supports the latest gaming and compute standards and sips energy with a max power draw of 150 Watts. This figure is excellent compared to the 300+ watts the Radeon would suck down when stressed.
---
Usage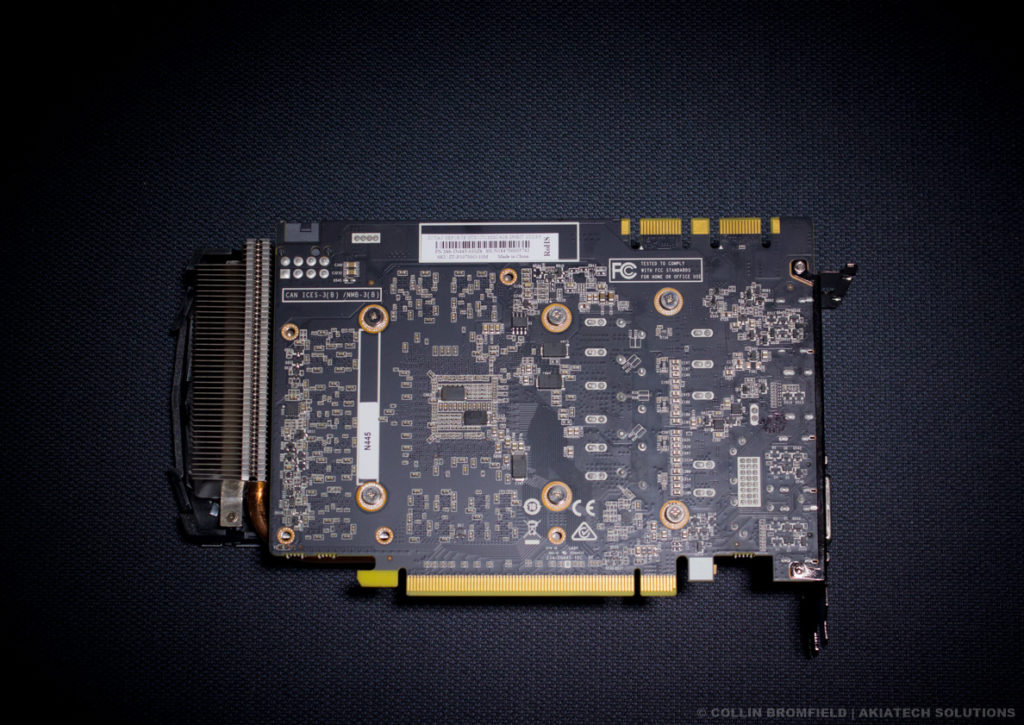 I've been having some fun with this card and even though it's miles ahead performance wise, compared to my old card it just doesn't feel that much faster. I mean, the benchmarks are showing me good numbers and I do see an improvement in some games but the performance boost you would typically expect is not there. It could be that the 6950 was just a damn good card (which it was) or maybe computer technology just isn't advancing at the speed it was a few years ago. For me, gaming is now secondary to this blog and making the videos and music that goes along with it so I may not be seeing the performance increase for the simple fact that I barely play anymore and other than games most normal apps don't provide that granular experience that playing a video-game does.If there is one complaint that I have about this card though, it's the GPU Boost 3.0 Tech that Nvidia uses to manage overclocking. I get the need to save people from themselves and also to save the company money on RMAs but what I don't get is the limitation that is placed on seasoned overclockers who just want to squeeze the best performance out of their card. I completely despise this tech and to make it worst I've seen guys on the net with same GTX Mini boasting about all the high clock speeds they are getting out of the box with no overclocking. I, unfortunately, was not so lucky, I got exactly what was printed on the box. I was able to overclock the Micron memory by a few hundred MHz but that was it. The card would not allow the core to be overclocked by more than 200MHz and once overclocked the Boost did nothing…. So thanks for this card Nvidia, it's great but please find some way to take the training wheels off for those of us that know how to tweak and tune our hardware, your profits will appreciate it. Other than the GPU Un-boosting Tech I have nothing bad to say about this card. Everything I threw at it, it took it, Benchmarks, Games, Video Editors, my 2 Year old. This card is well worth the almost $400 dollars it retails for on the market and the crazy thing is that it's not even the fastest model in the Nvidia stable. I made an unboxing video to go with this post so please feel free to check it out for additional commentary if you haven't already.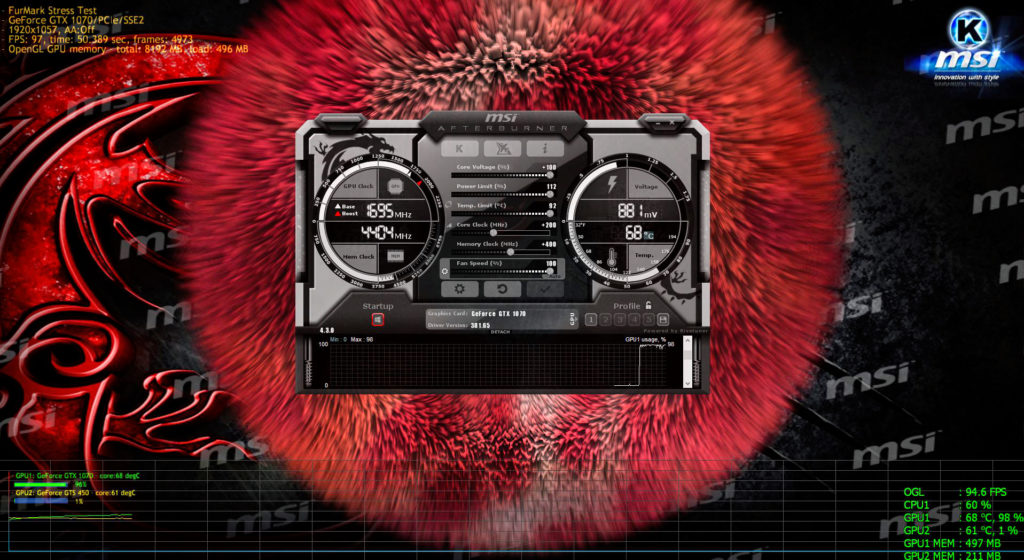 ---
Thoughts
You can't go wrong with this card or any of the others in this line. The performance gain you will see though is solely dependent on what hardware you're running now. For me, it was relatively huge since my card was over 6 years old but as the technology progresses the satisfaction you would get in the past from upgrading from one generation to the next is not the same. As we approach Photorealism in games and 3d applications, where else is there to go? I know everyone's pushing VR and "Immersion" down our throats, but even at this stage, we are already seeing great results with existing hardware. Eventually, you won't even need to upgrade your card at all unless it's broken since the graphical performance will pretty much be the same across the board. Until that time though try to enjoy the extra 10-20 frames per second you gain each time you fork over a few hundred bucks from your bank account. I did and it feels great!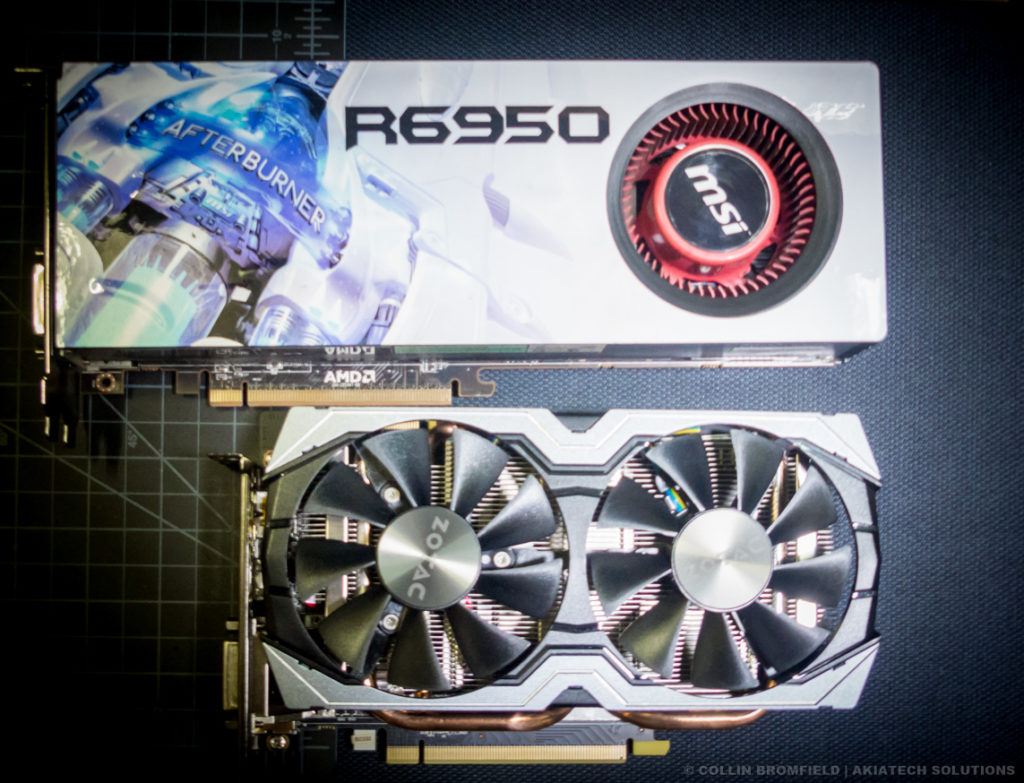 ---
Get your own GTX 1070 Mini Below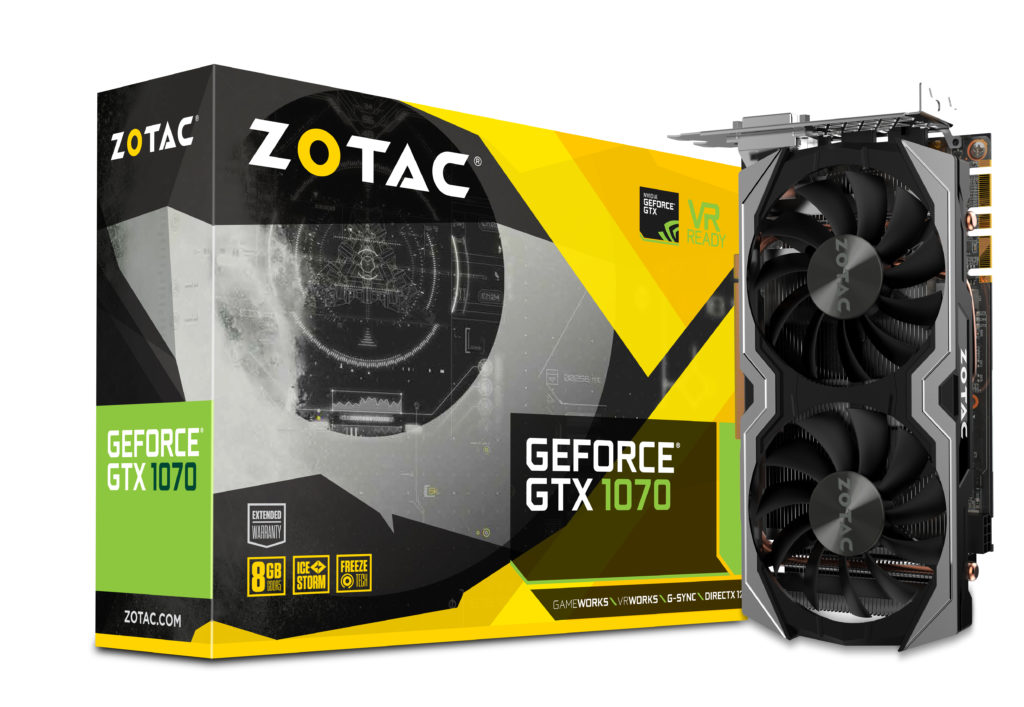 ---

Specifications
GPU

GeForce® GTX 1070

CUDA cores

1920

Video Memory

8GB GDDR5

Memory Bus

256-bit

Engine Clock

Base: 1518 MHz
Boost:1708 MHz

Memory Clock

8 GHz

PCI Express

3.0

Display Outputs

3 x DisplayPort 1.4
HDMI 2.0b
DL-DVI

HDCP Support

Yes

Multi Display Capability

Quad Display

Recommended Power Supply

500W

Power Consumption

150W

Power Input

8-pin

DirectX

12 API feature level 12_1

OpenGL

4.5

Cooling

Twin Fan

Slot Size

Dual Slot

SLI

Yes, SLI HB Bridge Supported

Supported OS

Windows 10 / 8 / 7

Card Length

210mm x 122mm

Accessories

Dual 6-pin to 8-pin PCIe adapter
Driver Disk
User Manual
---