Novation Circuit Groovebox Review
AKiATECH
---
---
The Novation Circuit
| Novation is a company that has been around since the early 90's, they brought us the original Bass-Station synth and most recently the Launchpad line of Ableton controllers. Through their years of innovation, they were able to create something unique. You get a Synth, Drum-Machine, and Pad Controller all in a package that's a little bit smaller than a Launchpad Pro. Today we will be reviewing the Circuit, Novation's interpretation of the once iconic "Groovebox"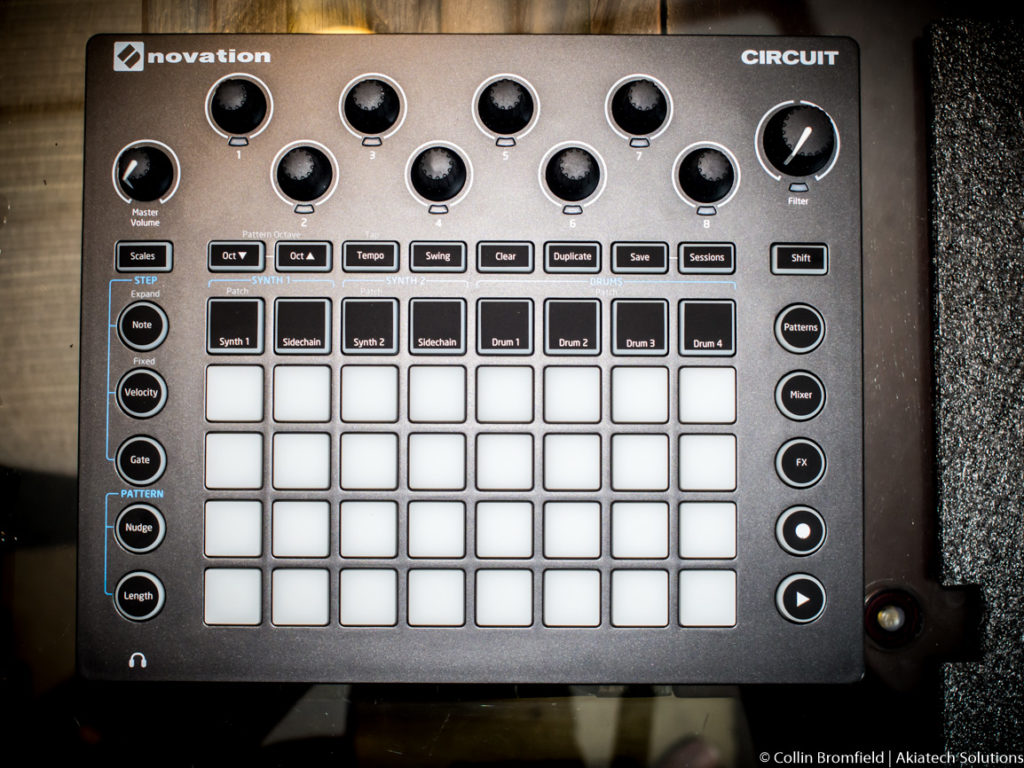 Features
At first sight, the Circuit may look like a Launchpad that's missing a few buttons, but the only thing that the Circuit really has in common with the Ableton controller is its appearance. This little "Groovebox" has at its core a 4 track drum machine, 2 synth parts based on the legendary Nova engine, a ton of macro controls and over 128 included Synth and Drum sounds that can be tweaked to the heart's desire. The Circuit could reasonably be considered as a standalone workstation, although, with its limited sequencing capabilities it may be more useful for "sketching" out ideas and laying down patterns to later expand upon in a true DAW.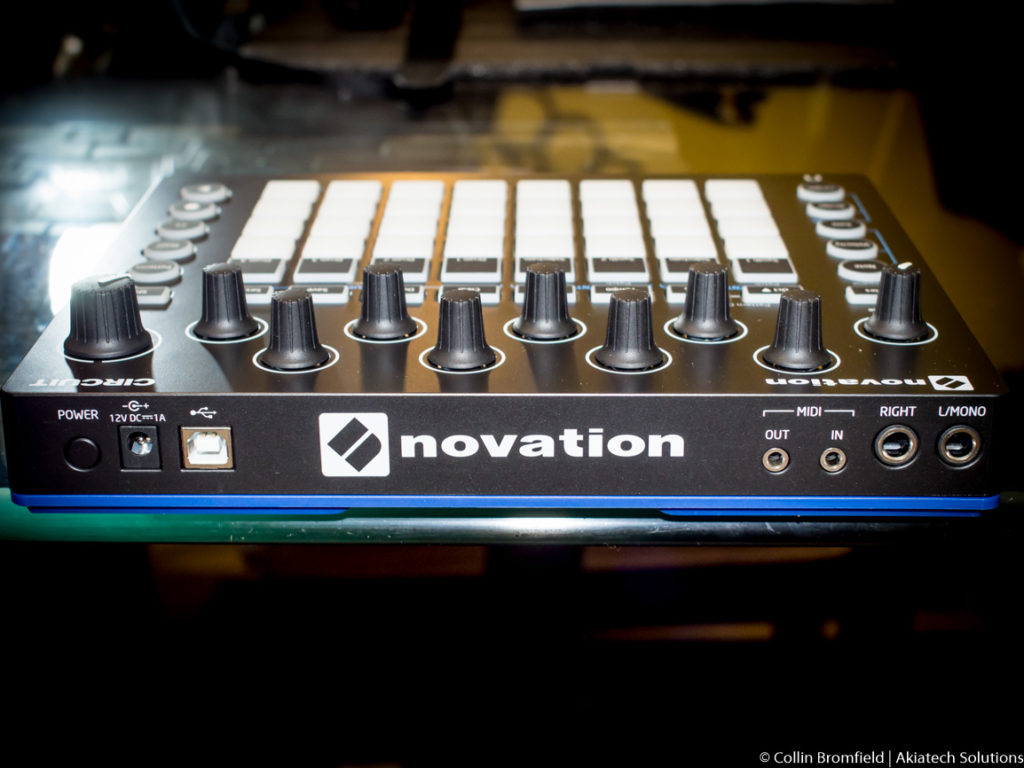 Design
As mentioned earlier, the Circuit looks like a slimmed down Launchpad. The button material and the layout does mimic the Ableton-centric controller to an extent. The body is made of hard plastic while the buttons are what could be best described as mini drum pads, and are very similar if not the same as those on the launchpad.There are 8 rotary encoders and 2 pots that control the volume and filter. The Circuit is designed to be a standalone device, so much so, that it even has a built-in speaker and can be powered by 6AA batteries. It supports MIDI in/out via two 3.5mm jacks and it also features balanced audio outputs via two 1/4 inch TS plugs, there's also a headphone jack on the front of the device for those who want to jam quietly. The bottom of the Circuit features a rubbery soft touch material similar to what the pads are made from that is slightly arched in the middle to give the speaker enough clearance so that it's not muffled when using fit on a flat surface.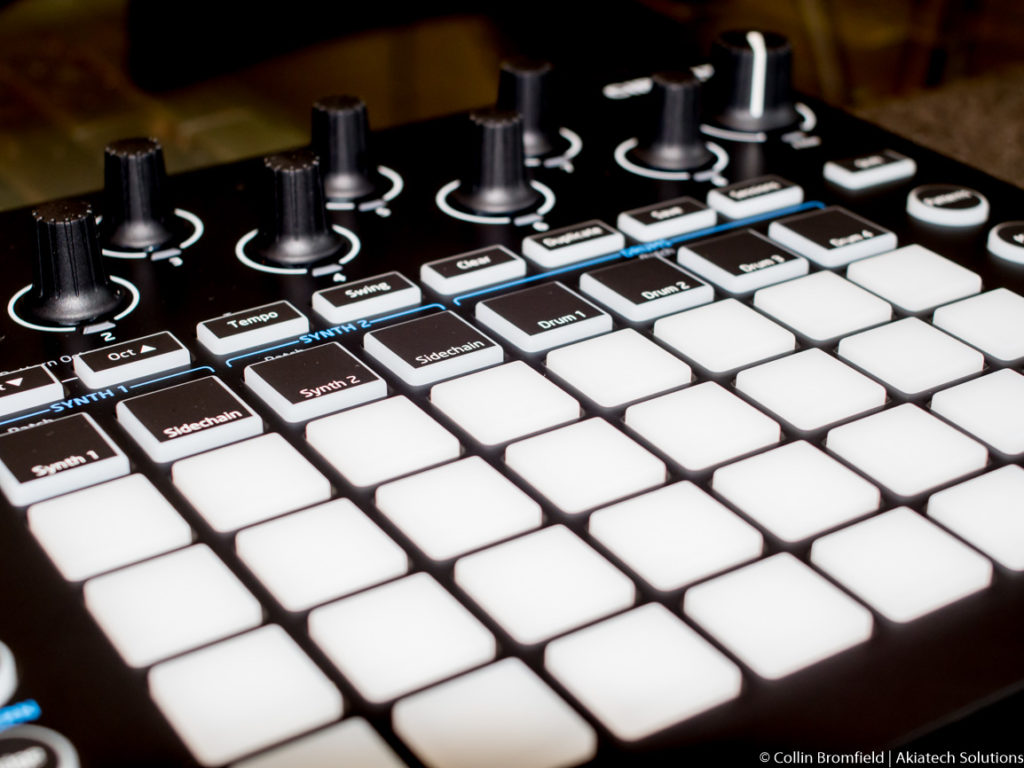 Usage
The circuit is a little intimidating at first in that there is no LCD display like similar groove boxes such as the Korg Electribe. You pretty much have to twist and turn knobs until you get the sound that you want. This may seem a little unintuitive but once you get the hang of it, it's pretty cool to hear the sounds that come out of this thing. The Circuit's limitations are what make it an attractive music creation tool. Nowadays everyone seems to be obsessed with perfection. The Circuit harkens back to the good old days where you had to "Play it by Ear". No distracting gadgets and gizmos, just pure creativity. Within 15 minutes I was up and running and had a nice little groove going, I decided that I was going to save my session so that I could work on it later. There was one thing, though, I'm not really one to read manuals but in this case, I wish I did. The Circuit's save functionality is disabled by default and has to be enabled by holding down the Shift and Save button at startup. This only has to be done once unless you want to disable the save functionality in the future to protect your created sessions.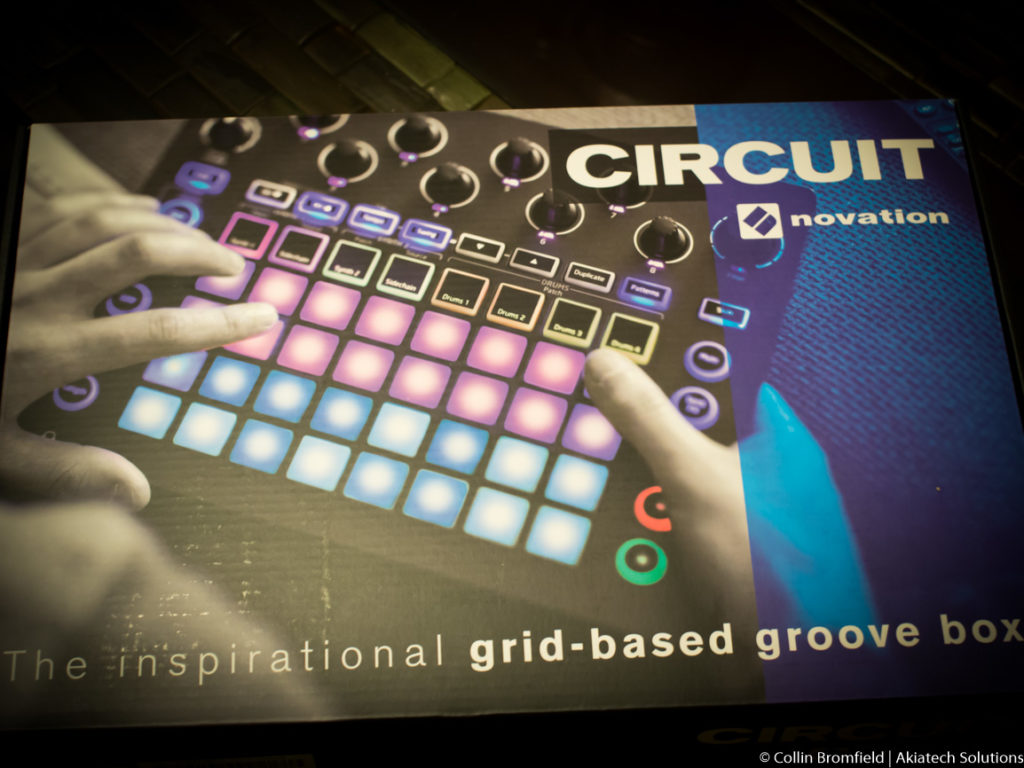 Conclusion
Overall I think the surface is a pretty versatile device and it's great for laying down ideas while away from your main workstation. It's also a good tool for DJ's who can use it to overlay a beat in between tracks, to set the overall tone of their set. I like the low-tech approach of the Circuit and also the sounds of the tracks that can be created with the device. The included sessions provide a good foundation to start creating your own tracks and are also a good example of what the circuit is capable of. If you approach the Circuit with reasonable expectations it will not let you down. Just remember to enable the save functionality the first time you use the device. For more info please visit the Circuits Product page; Here
Update: Completely forgot to include that there is now a free standalone Editor that will allow you to modify the dual synths that come with the circuit. This includes tweaking the included sounds or creating your own. All changes are synced to the controller in real-time so you can make and hear adjustments live. Check it out: Here
Update II: Novation has now released the "Circuit Components" Microsite. A cloud-based tool that allows you to backup your Circuit, upload MP3 and WAV Samples and also provides direct links to the Editor, Firmware, and Drivers. Check it out: Here
Update III: The Circuits feature set has grown since this review, see the new features added below:
New Features in V1.3
Sample Flip
You can now switch samples in real time! This is massive because it means that you can now use all 64 of your samples on each drum part and switch them on any step
You can also audition samples by tapping pads in drum patch View. Each pad will play the sample as well as select it, and everything you do in here can now be recorded in real time. This is seriously powerful especially when you have loaded your own samples
Infinite Envelope
To enhance the sample playback we have added an unlimited envelope length option – Turn the envelope control all the way to the right and your loops will no longer fade
Organising Sessions
You can now colour your sessions to group them together and to easily identify what you have saved where
Sample Automation
Changing drum selection no longer resets drum macros so you can play and record automation while changing samples
We've added the ability to reset drum macros using the CLEAR button. Hold CLEAR and turn a macro knob left to clear automation as before, and right to reset the macro to it's default value
Performing with Muted Tracks
You can now play drum steps in velocity view even when a drum track is muted. This means you can hear the automation and sample changes as you perform the steps in real time
New Features in V1.2
Play with Other Controllers.
Record MIDI notes from external instruments plugged into Circuit: either chromatically, or tuned depending on your choice of key and scale.
Manipulate Circuit's macro controls from an external MIDI controller and record as automation. You can even use your iPad.
Play with Ableton.
Automatically sync Circuit up with Live and easily record MIDI from your session – in tempo, in time, in key – with just a few clicks. You can even record your MIDI tracks from Ableton in one key and change it later in two button presses onboard Circuit.
Momentary Record.
Hold record, punch in and overdub notes or macros without losing your flow – or accidentally breaking your existing work.
Step Edit.
Even easier step-by-step automation: have a different pitch on your drums for each hit. Add FX to one note in a sequence. With the potential for a different sound on every step for every track, you don't need to do the maths to know that adds up to unimaginable potential – for deliberate creativity or happy accidents.
External Preset Select.
Remotely switch the sound of either of Circuit's two synths on the fly using MIDI program change messages. Remotely switch the sound of any of Circuit's four drums on the fly using MIDI CC messages. From any MIDI source.
---
Get your own Circuit now by clicking the link below
---
---
Tech Spec
Product Hardware Specifications
32 RGB backlit velocity sensitive button grid
28 RGB backlit function buttons
8 Continuous pots with RGB indicator LEDs
Dedicated filter and volume pots
1/4″ jack sockets for left and right outputs
Two MIDI sockets (3.5mm jack sockets with MIDI din break-out cables)
USB socket
Front-mounted 3.5mm jack socket for headphones
Integrated speaker
Rubberised knob caps
Rotary controls secured to the chassis with metal nuts
Power supply connector
Power switch
Battery compartment for 6x AA batteries (included)
Kensington Security Slot
Sound Engine
2 Nova synths
4 Part drum machine
6 Note polyphonic per synth
64 Synth patches
64 Drum patches
8 Synth macro controls (Control up to 4 parameters with one knob)
4 Drum parameter controls (Pitch, Decay, Distortion, Filter)
Mixer view with levels and mutes
Master FX with individual track sends
16 Delays
8 Reverbs
Sidechain effect (7 types and off). Triggered from Drum 1
Hi-pass / low-pass master filter
Sequencer
32 Sessions
6 Tracks per session (2 Synth and 4 Drum)
8 Patterns per track (Synth 1, Synth 2, Drum 1&2, Drum 3&4)
16 Demo sessions
Real time record (notes, with velocity and automation)
Auto-quantise notes to steps and automation to 6 events per step
50 Automation parameters (up to 4800 events per pattern)
Internal tempo range 40 – 240
External synced tempo range 30 – 300
Swing 20 – 80%
Real Time Performance
Full range velocity scanning and record. Editable to 16 levels
16 Scale types and chromatic transposition
Synth expand view doubles playable area
Drum expand view allows real-time drum record
Octave (input) and pattern octave (edit)
Pattern length and nudge
Configurable pattern chain
Session instant switching and queued switch
Editing
Velocity and gate per step
Multiple gate lengths per step (via real time record)
Automation edit per step
Clear step, automation parameter per pattern, pattern, session
Duplicate step, pattern
Software Compatibility
Ableton Live Lite 9 is included
Circuit will also work as a standard USB-MIDI controller.
Power Requirements
Circuit can be powered using 6x AA batteries or a power supply (both included). It can not be powered via USB
Maximum power consumption 12V DC 600mA
Product Dimensions
240mm width x 200mm depth x 35mm height
---
Gallery