Serif Affinity Photo for Windows Review
AKiATECH
It seems like only yesterday that I was bitten by the creative bug. I promised myself that I would do whatever it would take to become a master of the dark art of "Digital Image Manipulation". Back then I was an up and coming player in the Hospitality industry, no-one could bus a table like I could, and I was the reigning champion of silverware wrapping! But exceptional work ethic only gets you so far. The reality was that I could not afford the software that the Major Players were using. I went on a limb and installed Linux to play with Gimp but that didn't work out for me either. Thankfully the guys at Serif had a suite of fully functional FREE software available for me to play with. I'm not sure how they made any money because the freebies were so robust that you really had no need to upgrade to the paid versions.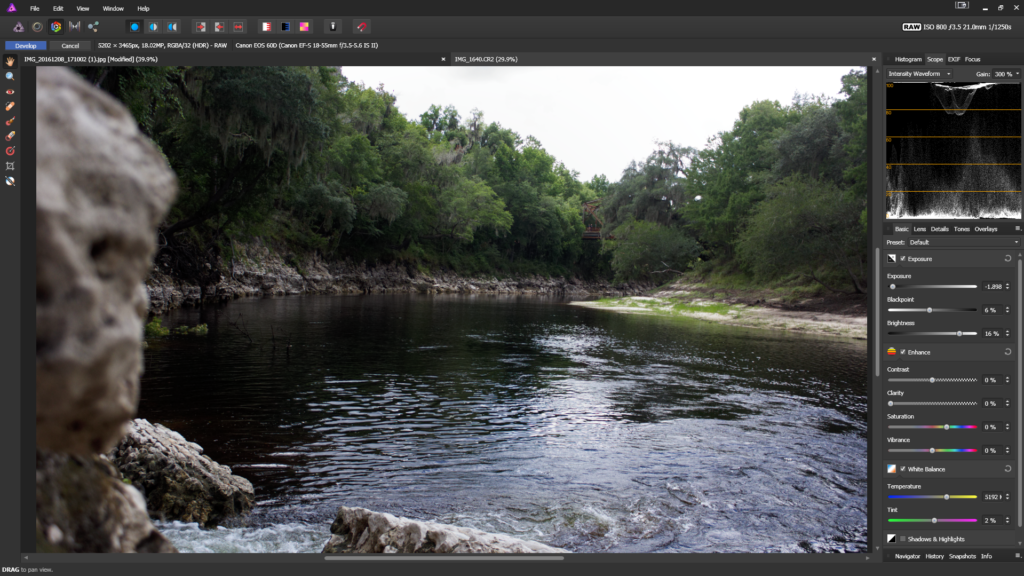 ---
It's been almost a decade since I used Serif Photoplus 6.0 to superimpose my head onto other people's bodies and other mindless mischiefs. I now have a decent paying job and can afford to use the commercial offerings on the market. All is good in the world, at least you would think that's the case. If you've done any software shopping recently you may have noticed an (in my opinion) unwelcome trend. Almost all the major software companies have migrated to a "Subscription Based" business model. I think this is a great strategy for the publishers and developers but no so much for the consumer. I had a subscription to one of those companies but I realized that I did not use the software enough or at a level that would justify paying for it every month. I ended up canceling my subscription, an act for which I was penalized and hit with an early termination fee.
The point of this extended intro is to highlight the strengths of a great company that has a history of putting its customers before profit. Their free software provided me with a base to build upon, and after beta testing their current offering, I immediately purchased a license (no subscription) as soon as the option became available. Companies like Serif are slowly becoming extinct and I will do whatever I can to help them stay in business as long as they keep taking care of me and my fellow consumers. Now on to the review!
Design
The Affinity Photo Software is the second of the Serif "Affinity" line to be ported to the Windows Operating System. The first was their Affinity Designer which is a great application for what it does but was not something that I needed at the time. Affinity Photo, on the other hand, is exactly what I was looking for as a quick photo editing/touch-up software. I mainly process raw photos and although I have Adobe Lightroom which covers most of my needs. There are times when I would like to add some text or graphics and that typically requires a program like Photoshop or similar. For a while, I had a subscription to Adobe's basic Creative Cloud package which included Lightroom and Photoshop and this was great as it covered all the types of editing I could possibly need to do. The problem is that Photoshop was overkill for my purposes and I already had a copy of Lightroom 5 which has about 90% of the features of the CC version. I did purchase Photoshop Elements which has been serving its purpose for the last few months but the UI is horrible and offers minimal customization options. Serif's Affinity Photo has all the features a Digital Photo Editor or novice Graphics Artist would need. There are the typical Image Adjustments you would find in most modern Image manipulation Software with the addition of Design tools that allow you to add Graphics and Text to your Photos.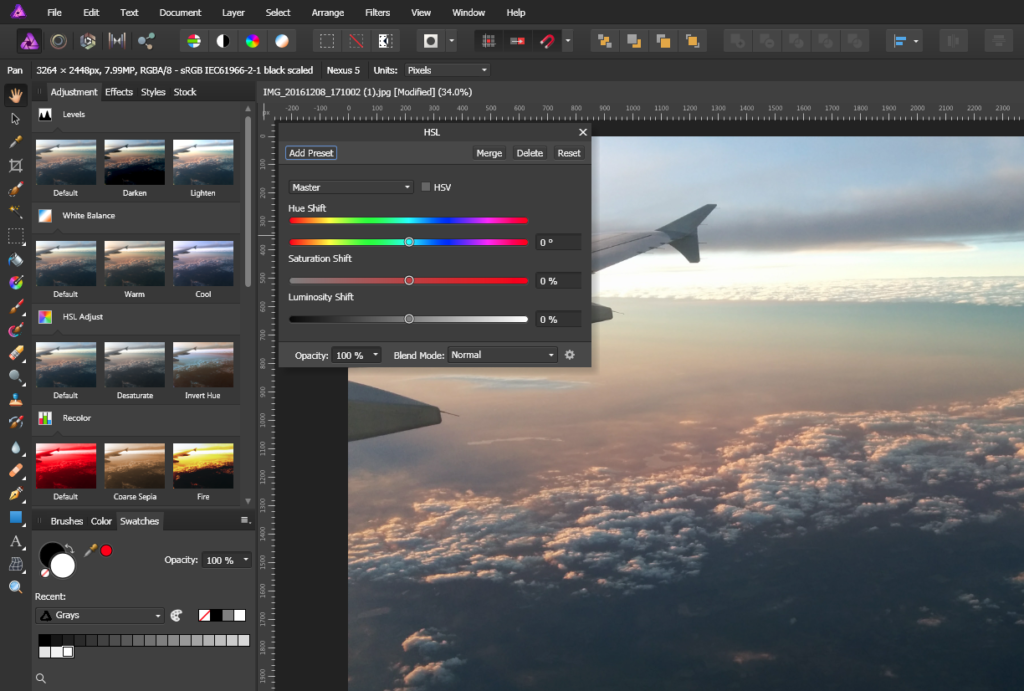 User Interface
The UI is highly customizable. The team at Serif has included the ability to drag and dock most elements of the interface with the option of showing or hiding each one via the "Studio" menu item. You can snap the different elements on either side of your display and merge them together to save space or stack them for easy access. I would have liked the ability to modify the color of the theme but the Matte Black look is still miles ahead of the Plain Jane Gray interface of the Photoshop Elements software that this application directly competes with. The amount of information available to the user is Mind-boggling for this price point. You have a Histogram, Scope, EXIF Data, Layer view, Color Channels, 32bit Preview and more. One of the welcomed features is the guided Image setting adjustment which provides a preview of the different settings such as Saturation, recoloring, White balance, etc.
On the left you will find the "Standard" Image Editor Toolbar, this toolbar does not seem to be customizable like the main menu at the top of the screen but that's the same with similar software. Affinity Photo has a Ton of menu options. I haven't gotten a chance to test every single function yet so, as a consolation, I've made a GIF that shows most of the options. This program is very capable and over time I'm sure it will more than make-up for the meager sum the company is asking for it.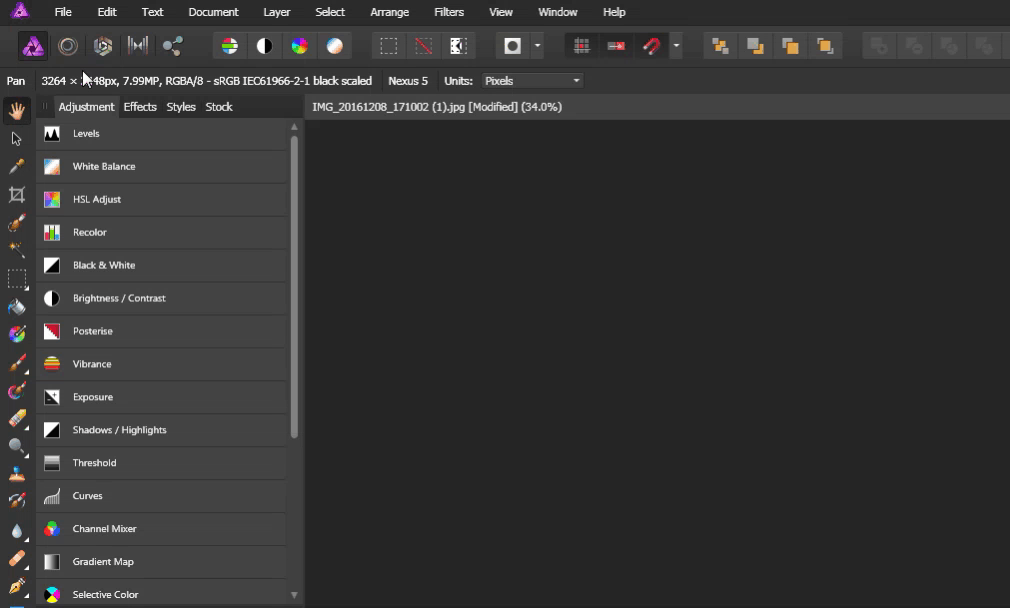 One of the standout features I've seen with this software is that it has what the company calls "Personas" Each persona is a customized layout that provides a distraction-free environment for accomplishing specific tasks. The Personas can be selected by using the first 5 buttons on the main menu, the official description of each setting is listed below as shown in the help file.
---
            Here's an overview of the set of Personas available to you:
 Photo Persona: The default Persona for

photo editing

including crop, selection, brush, retouch, erase, warping and vector-based tools.

Liquify Persona

: A stunning design environment for

distortion of image areas

. Great for retouching and special warping effects.

Develop Persona

: For in-app

development of raw images

, giving you full control of image color and tone.

Tone Mapping Persona

: An environment dedicated to tone mapping images. Although intended for 32-bit documents, you can also enter this persona from 8-bit or 16-bit documents and tone map non-HDR images.

Export Persona

: You can

output

your image, layer, or slice to a range of image formats.

Panorama Persona

: Only accessible by creating a stitched panorama, provides a dedicated environment for fine-tuning stitched images to create panoramic compositions.
You can switch between Personas with a single click, with the workspace tools and panels changing to that Persona's way of working.
---
UI Comparison between Affinity Photo and PSE 14: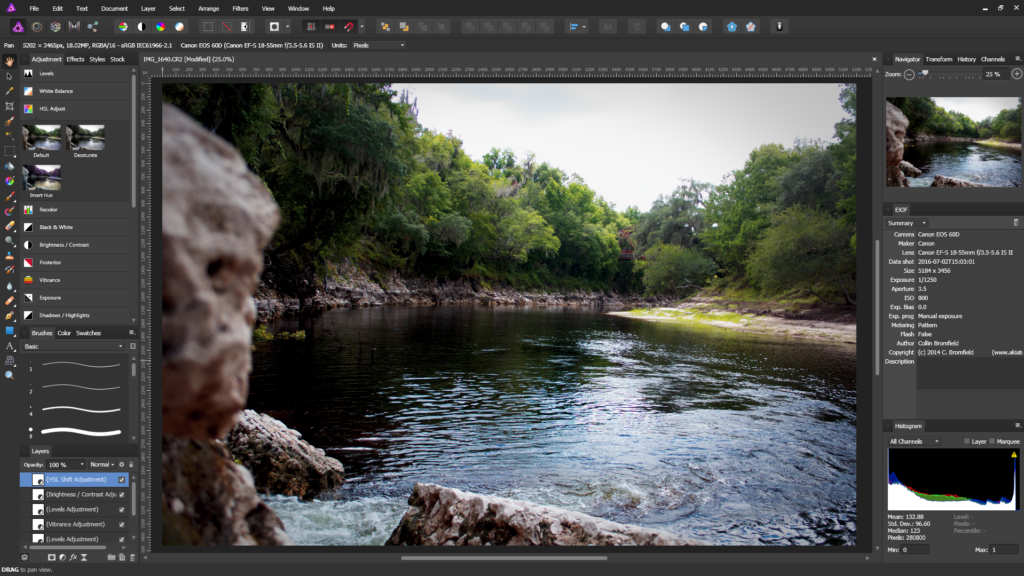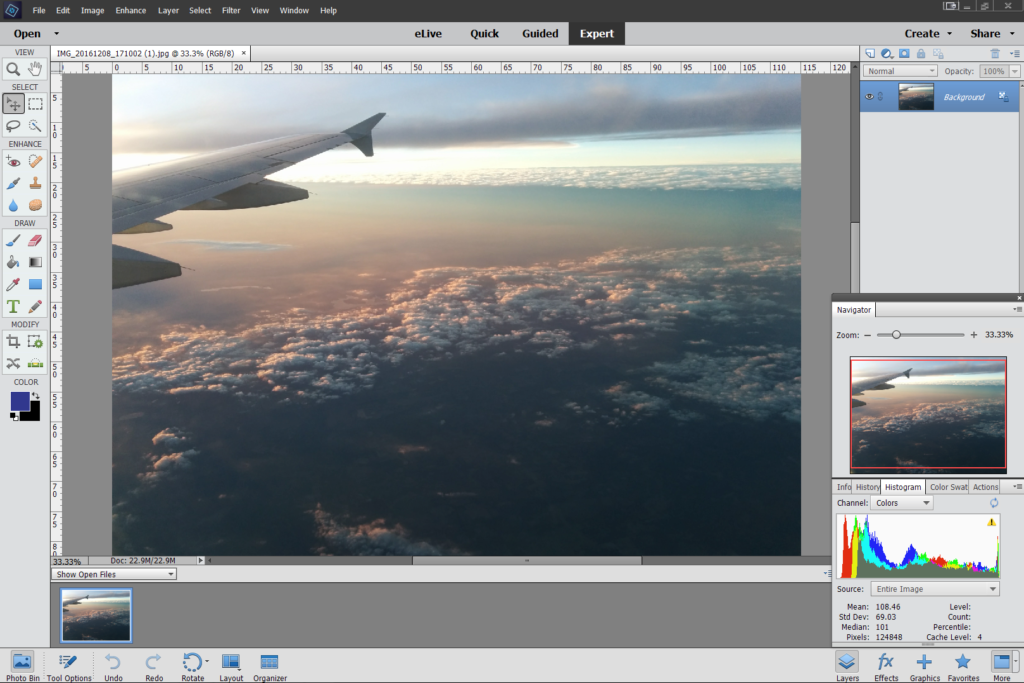 ---
Usability
Using the software was a breeze. When you first open the program you are presented with a window that gives you the option to either create a new document or use an existing template. The templates are hosted in the cloud so you may have to wait for the download depending on your connection speed. Once you open a template you will be able to see the full history of edits that were performed which could be a good way to "Reverse Engineer" the process used to get the final result of the image used in the Template.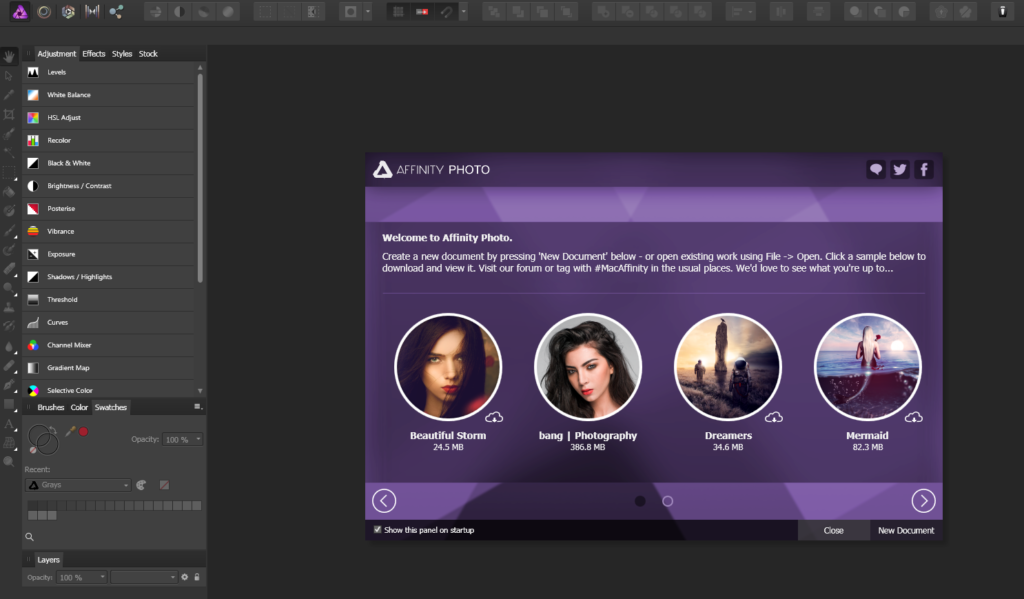 The Image below is one of the Included Templates. If you look in the history and layers menu you can see the different actions performed to get the portrait to look the way it does below. This is just one of the features that make this program so good. It includes guided elements for the novice users while maintaining pro-level editing tools for the seasoned Editor.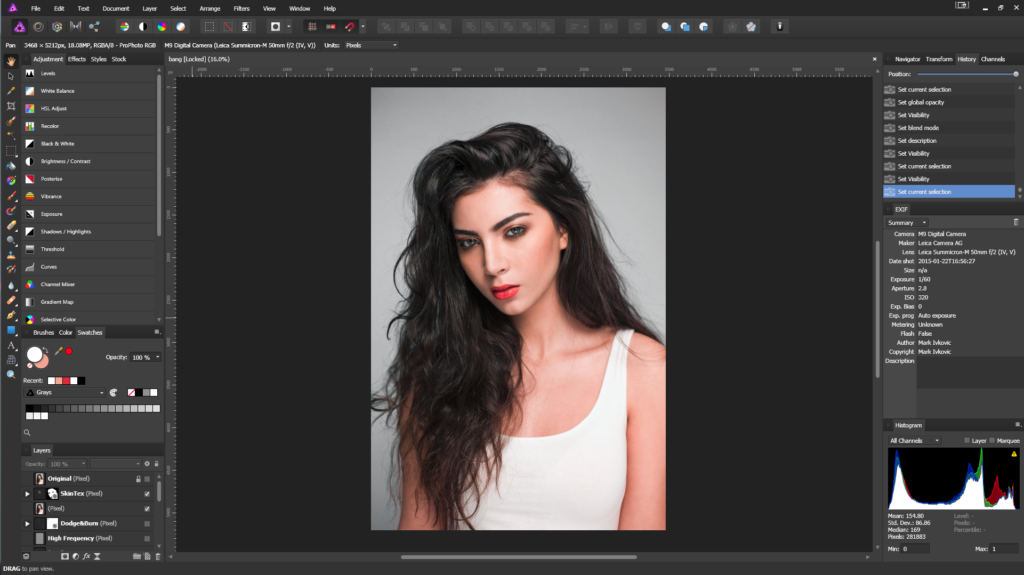 the software includes a number of filters similar to other big-ticket programs and even has built-in support for Photoshop Plugins. The Google Nik Collection is a very advanced free plugin Suite that I use frequently and proper integration was a requirement for me to use this software. For the most part, everything worked. Although some of the plugins got flagged as unknown, they functioned as designed. Affinity Photo also has the ability to use "Live filters" which according to the help file:
"allow you to apply filter effects such as blurring, sharpening, noise, and distortion non-destructively, meaning you can modify or remove the effects without having to use the History panel to undo other operations on your work". These features are just a drop in the bucket as to what the program is fully capable of. Check out the complete list on their site, I couldn't even read through the entire thing! It would take me a few hours to walk you through all the functionality of the software so the best way to test it is to visit their website. They don't have a trial version for windows just yet but as soon as they have a link available I will post it here.

Summary
There aren't many faults I can find with Serif's Affinity Photo software. They really did pull all the stops with this one. I can see why the Mac guys are loving the Affinity line of products in the App Store. That's not to say that the application is perfect. There were a few issues albeit minor ones that I came across while using the program. One of the problems I had was easily switching between files to be edited. Once you open more than one image the program puts them in tabs so that's not a problem. if you do want to navigate to another image though you will have to close or minimize the program and then go to your OS file manager to open the image there. The good thing is that you can set Affinity Photo as the default image handler which will allow you to open an image by double-clicking it. The downside to this is that it has to be done manually since there is no way to set the program as the default handler from within the application. Another thing I noticed is that although the program makes it easy to apply  "Adjustments" it's a bit tedious to remove them. I would prefer a way to preview the image when adjusting the color settings before it gets applied. This may be a moot topic however since you can use the "layers" section to uncheck and delete said adjustments. Just don't go crazy clicking on the pretty previews when adjusting the image settings and you will be alright. Hey, with built-in HDR, Focus Stacking, and Panoramic stitching. I'm reaching a lot here….
---
Affinity Photo 1.5 is here, for MacOS AND WINDOWS! from MacAffinity on Vimeo.
---
My final quibble with the application (I promise) is that in order to use advanced effects including third-party plugins, you have to select the Original (Pixel) or background layer. This can get annoying sometimes when you have already performed a few edits then attempt to use your favorite plugin or effect. It's not a dealbreaker though just an annoyance. The only thing I have left to say is, go for it! At $49 dollars you can't go wrong with this software. Yeah, it's still a little rough around the edges (the Windows version anyway) but based on what I've seen in the Beta Testers forum. These guys are eager and willing to fix bugs and add new features. I can find no fault in a company that provides a superior product for a fair price. it's too soon to speak about reliability but I've never had a problem with Serif's old software so one would hope that they would only get better with time.
---